Meet Maria in New York!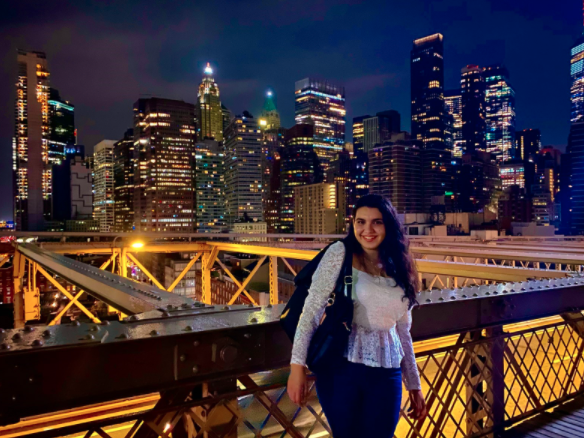 "My journey to enter the United States during COVID has been a bumpy one, including tears, patience, and happiness. "
Maria began her short training in the US during the pandemic while the borders remained closed. We asked her a few questions about her experience traveling to New York under these restrictions. Read the full interview here
Why did you choose to go abroad?
As an international business student, one of the requirements is to do one of the subjects abroad. However, since covid, it was not a requirement anymore. Still, I chose to complete my business degree abroad. Is the international degree even worth it if you haven't done something abroad? So, I chose America to improve my English and learn about the ''cold' culture everyone is talking about. Lucky me, I experienced the opposite, and it was the American dream I never thought I would ever lifve + during Corona time, kind of special, isn't it?
How did you find your internship?
I found my internship because of Stage Global; they helped me with every step of the journey to find the perfect placement by giving my standards and requirements. We found the one after a complex search.
How do you feel about your internship so far?
How do I feel about it? My internship has been fantastic; everyone in the company was very warm and welcoming from the very beginning. They trained me and involved me within every step of the company. So, it made me feel appreciated and respected.
How does the American culture differ from your culture and what has impressed you the most?
The real question is, what is my culture to compare it to the American one? I grew up in a Middle Eastern family in the Netherlands; my internship was at an Italian company based in New York. The culture in New York is one of a kind; it's very mixed. So, from my perspective, the culture I experienced is similar to one I grew up with, taking care of each other, being helpful, and weird enough, more patience than the Dutch culture even though they are always on the run. That impressed me the most because I didn't expect it at all. What also impressed me was, being an intern is OK; Americans love the idea of talking to an intern and get new ideas because we experience things differently than a regular coworker does. From my experience, being an intern in the Netherlands is almost like a sin; I don't get appreciated at all, while in New York, I experienced the contrary, and I didn't think it would ever happen the way I experience things.
Could you take us through a day? What is your routine?
My daily routine was waking up at 07:30 AM, shower, having breakfast, or taking it with me to work if I was running late or eating my yogurt while I was walking to the subway since it's a 7 min walk. So, I had to leave my house before 09:15 to arrive at 09:50 at work since I start at 10 AM and work until 05:00 PM or if I still have some work to do, I stay until I finish it. My latest was once working at office until 08:00 PM. My main responsibilities were supporting, assisting the operational and HR department. After coming home from work, usually around 6, I will rest a bit and grab dinner downstairs at 7 with the girls I met in the building or just eat in peace with Netflix at the rooftop or in my room. It depends on how tired I am, but I would go out walking around, or it happened that my friends dragged me to go on a ferry during the week because it has a beautiful view at night. My weekends were always exploring a new (touristic) place in NYC, or I was working during the events of my internship, which was also very fun to do.
What is your housing situation? Do you live in an apartment? Roommates? Housemates?
My internship company recommended Webster Apartments. It's a female-only apartment complex in the city. It was very fun because it was close to everything, and it had great facilities. I also got the chance to meet other girls from other states and countries who were also interning in New York. It was an easy way of making new friends and feeling secure.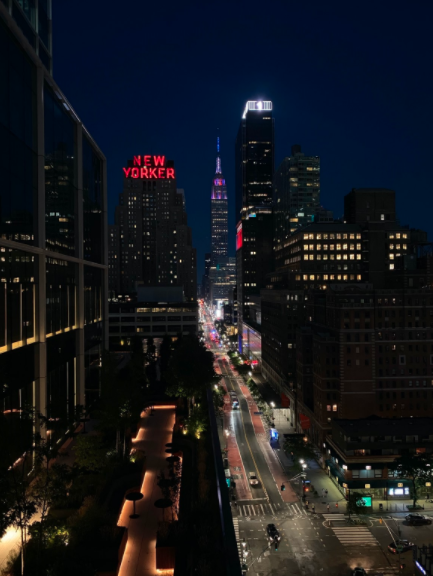 Have you made any trips so far? (Or have you trips planned/in mind?
Unfortunately, I didn't have the time to explore outside NYC even though I was there for 13 weeks. Because of the events, I was able to go and see the Hamptons, which were long unforgettable trips. I still haven't seen a lot yet, but it will in time if I come back to New York.
What are your future plans?
Good question, I always say; each step opens a new door. And this step leads to a company I want to come back to do my final thesis, and after I graduate, who knows which door has opened by then. The one thing I definitely identify is that I enjoyed working outside the Netherlands.
How has this experience abroad helped you grow both professionally and personally?
This experience has helped me develop in taking responsibility in whatever I do, making decisions with a clear boundary of 'overthinking.' It was an excellent adventure to take care of myself without depending on, e.g., family, regarding health and safety. Just being independent. And it was a valuable opportunity to learn how I would react to different situations and clear my mind by being on my own.
Why would you recommend others to do their internship/traineeship abroad?
Definitely!! I would recommend others to intern or doing their traineeship abroad, it helps you think and grow in a way you cannot do if you stay within your comfort zone, depending on, e.g., your friends and family. You will gain valuable work experience, meet new people, learn about different cultures and do things you wouldn't do at home because you will discover and learn yourself differently and make other choices than you might typically do. You are breaking your routine to self-development which makes you independent.
If you could express your internship experience in three words, what would these be?
Grateful, overwhelming, memorable.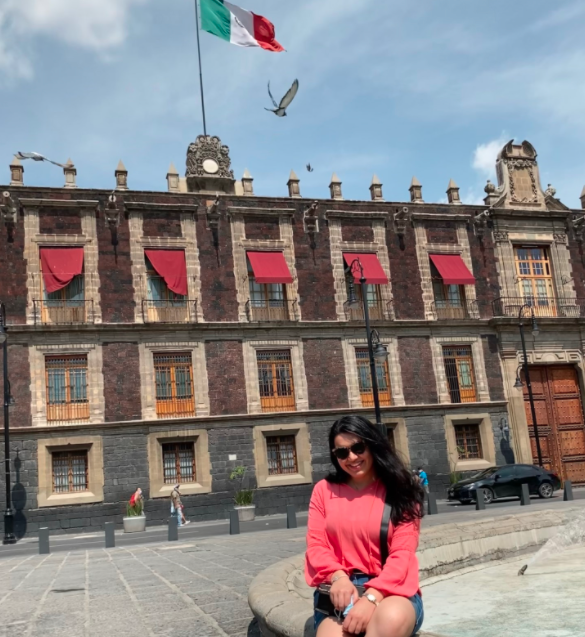 Is there anything relevant to your experience in relationship to the pandemic that you would like to share with other students? Any reflections or additional remarks on your experience would be fantastically appreciated!
My journey to enter the United States during COVID has been a bumpy ride, including tears, patience, and happiness. The journey started with patience because I promised myself to work in America this summer, and it didn't matter how I would do it; I just had to. As we were applying for companies to intern, we also had to deal with the restrictions; if you are from the Schengen area, you cannot enter the United States. It's forbidden. However, you can enter only if you have a J1 visa; funny enough, I did not receive it in the Netherlands, and I had to go to Mexico to get it. After a long time of thinking, (let's be honest, Mexico isn't the safest country) I decided not to wait longer and booked a flight to Mexico in May. My second setback was getting sick with covid 20 days before I was supposed to fly; I had to reschedule, so my start date kept moving forward since I also had to stay more than 14 days away from the Netherlands in order to enter the US.  After a lot of stress and patience, I could enter Mexico without issues. (I was lucky it wasn't mandatory to show a negative covid test before boarding. If it were the case, my positive covid result would have canceled the whole trip). The second step was to contact the American embassy, make the deposit at a Mexican bank in pesos and then receive the two visa appointments.  The tears started to begin from this stage; I couldn't deposit because every bank in Mexico was rejecting my cards. After a couple of days of searching, I finally deposited cash and got the appointment the next day. Only to go there and hear that the visa rules have changed from this morning, that people who do not live in Mexico cannot receive permission to receive the J1 visa. And that I should come back in January 2022 to try again, and now I should go home to the Netherlands because there was NO way I may enter. If I did with the form I filled out, I could've been arrested at the borders because it was considered fraud only because they decided to change the entering rules a couple of hours before my appointment.  There it was, the rejection from the American embassy to enter the united states, in my face in Spanish.  After days of struggling and getting stuck in Mexico City, I still had faith to go even though I was about to give up. I was in Mexico for over 10 days, and I didn't know what to do. Luckily Stage Global especially Claudia, was there for me with every step to think for solutions to get out of this situation and still be able to intern this summer in New York.  After a lot of patience, running out of money, I had to apply for a volunteer program instead of an internship and apply for an ESTA visa to enter the United States.   After 15 days, I finally received permission to enter the United States, and I immediately booked a flight to New York two days after. On day 17 of being in Mexico City, I finally got on a flight and went to the JFK borders with a lot of sweat and uncertainty. Luckily everything got approved, and I was able to get my bags and see the sun shining from the JFK airport while waiting on an uber to start my New York journey. After so many setbacks, happiness finally arose on June 15, 2021, and my American dream turned into a reality.